Experience Scripture In God's Creation!!
A powerful tool for Scripture memory, scientific discovery, and the application of biblical truth.
Learn amazing facts about the outdoors.
Perfect for the classroom, campfire, coffee shop, deer stand, or home decor.
Excellent tool for family devotions and Scripture memory!
Attractive images enhance recall of the biblical principles and Visible Verse TM
Created by a Christian who is also a professional biologist, these cards use Scripture as a lens through which to view the created world. Each card contains a Bible verse (Visible VerseTM ), a related creation image, and an application- focused discussion of both. The set of twelve laminated Visible VerseTM Devotion Cards are designed to be displayed in their carrying case or as a ready reference for those on the go. Great for the classroom, as a display at the home or office, or as a portable devotion for the outdoor enthusiast.
May the unique presentation of Scripture found within each Visible Verse TM Devotion Card lead you on a life-long journey of experiencing Scripture in Gods creation!
Click on the thumbnails below to see images of each Visible VerseTM Devotion Card.

Wildlife

Astronomy

Bird

Body

Earth

Flower

Light

Plant

Signs

Tree

Weather

Water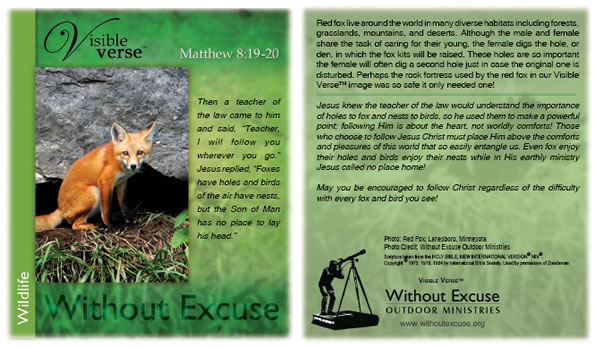 Card Front - Card Back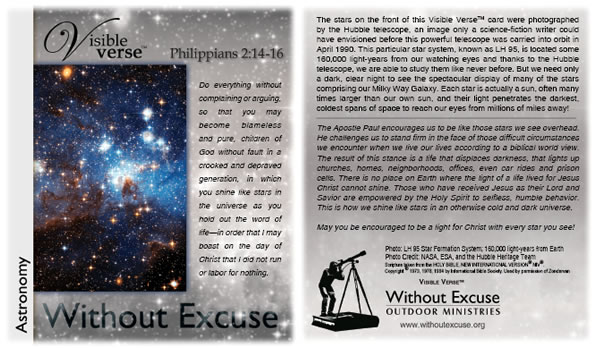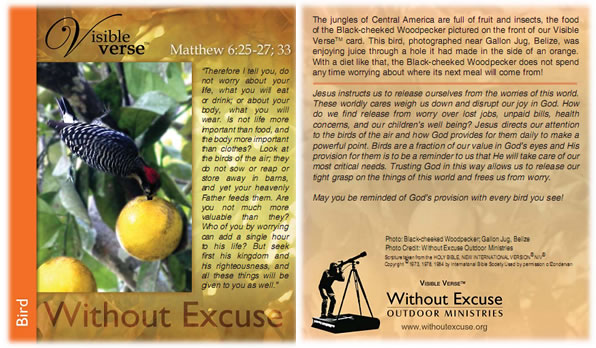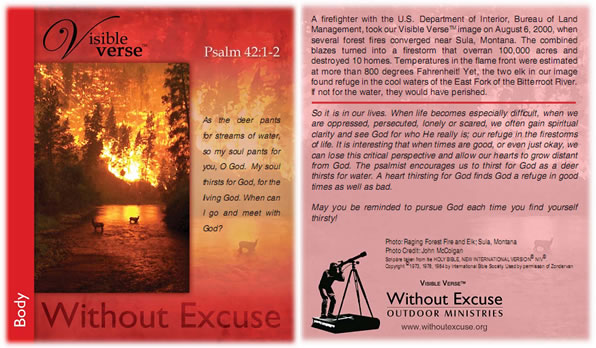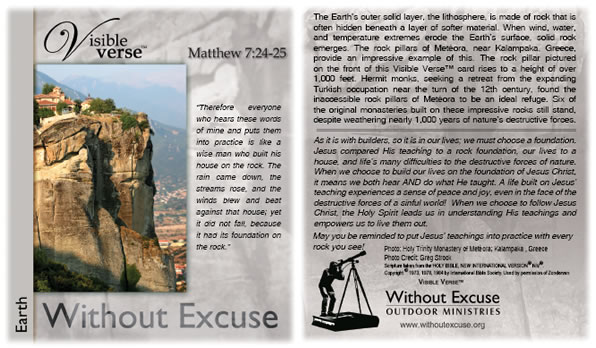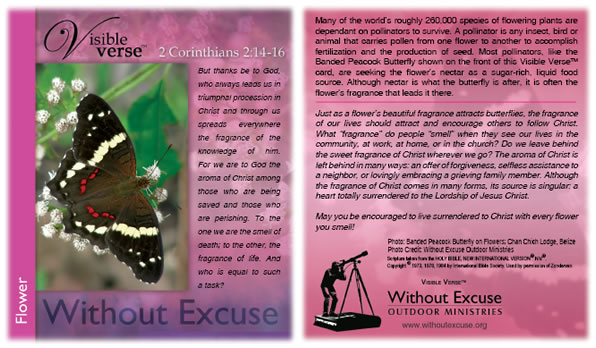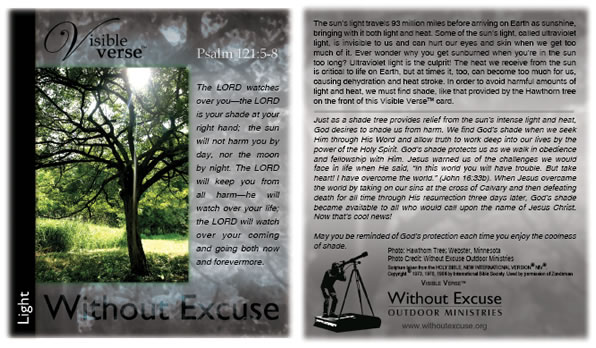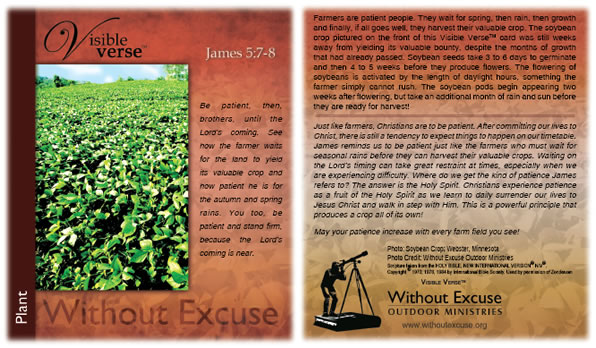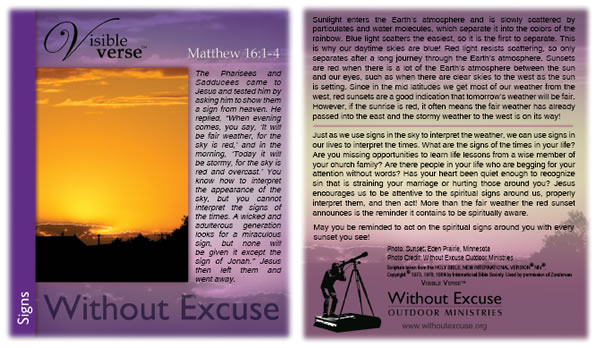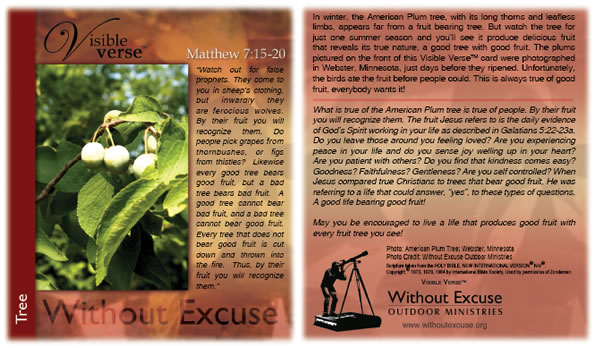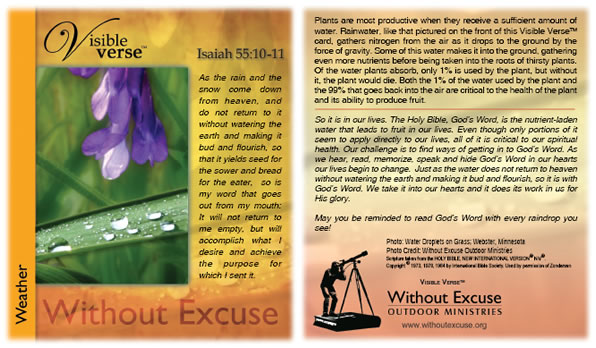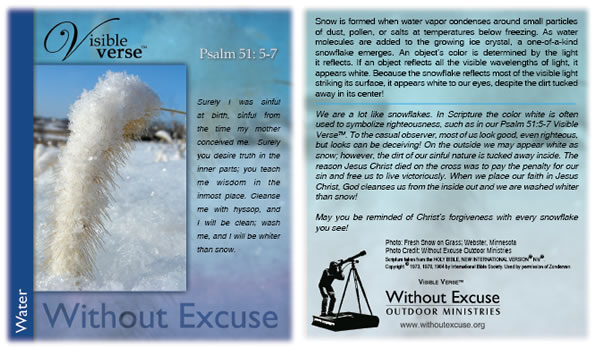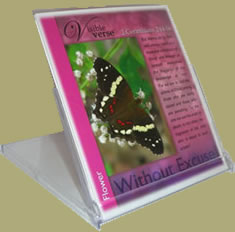 Order Online
Visible VerseTM Devotion Cards
Order the First Edition of 12 laminated Visible VerseTM cards and display case. Each card is 5 3/8" high x 4 5/8" wide. The set of cards is contained in a carrying case suitable for display.
---
Visible VerseTM Cards come in a plastic display
case for the counter, desk or anywhere!
---